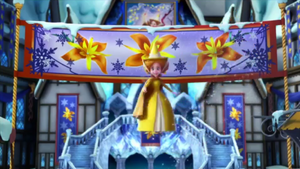 The Winter Flower Festival is an annual celebration of Snowdrop flower that can grow through the frigid temperature in the kingdom of Freezenberg. When it was discovered that they had been using Miss Nettle's own creation without her approval, King Henrick made amends by renaming it the Nettledrop in her honor, which she accepted.
Appearances
Edit
Ad blocker interference detected!
Wikia is a free-to-use site that makes money from advertising. We have a modified experience for viewers using ad blockers

Wikia is not accessible if you've made further modifications. Remove the custom ad blocker rule(s) and the page will load as expected.