This article is about the episode. For other uses, see The Secret Library (disambiguation).
"The Secret Library" aired as the sixth episode of season three of Sofia the First, and the fifty-eighth overall. It was produced as the tenth episode in season three.
Summary
Sofia discovers the Secret Library, and her destiny as a storykeeper. It has books of people's and other creature's unfinished lives, and her first mission is to rescue Minimus's older brother, Mazzimo.
Story
Insert details here.
Characters
Main characters:
Supporting characters:
Villains:
Other characters:
Matilda's coachman (only appearance; no lines)
Gemina (first appearance; no lines; flashback only; cameo)
Argus (first appearance; no lines; flashback only; cameo)
Athena (only appearance)
Marshand (only appearance)
Locations
Objects
Vehicles
Flying stagecoach
Secret Library boat (only appearance)
Cast
Songs
Connections to previous events
Notes/trivia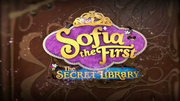 Errors
External links