Prince James
Vital Statistics
Title
Prince
Species
Human
Gender
Male
Hair color
Blond
James is the young prince of Enchancia. He is the son of King Roland II, and step-son of Queen Miranda, as well as the twin[8][7] brother to Princess Amber, and step-brother to Princess Sofia.
History
Early life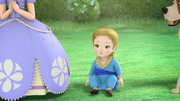 He was born seven minutes after Amber.[9][6]
Present
A gathering of royals took place at the front of Enchancia Castle where Roland and his children officially welcomed Miranda and Sofia to their new home after moving from the village. James was polite to Sofia, without hidden malice, unlike Amber. He then spoke with Miranda who promised she wouldn't be like the typical wicked stepmother in stories, starting by giving James and Amber hand-stitched patches of their family crest, which impressed James.
Appearances
Total appearances: 70.
* Bold indicates larger role.
References