Goodwyn
Vital Statistics
Title
Goodwyn the Great
Other names
Goodie (by Winnifred)[1]
Species
Human
Gender
Male
Hair color
Gray (born black)[2]
Goodwyn was the royal sorcerer of Enchancia, during King Roland I's reign.[3], but not King Roland II's reign.[4] He and his wife, Winnifred, have since retired, now living in Mystic Meadows.[1]
Personality
Goodwyn and Winnifred keep watch of Cedric from an enchanted painting they gave him, coming out if need be.[3] He didn't approve of Cedric's plots to overthrow Roland II, as that was not the job of a royal sorcerer. He also didn't like that Winnifred would disagree with him by encouraging Cedric's evil desires.[3]
He had trouble believing Cedric could be a good sorcerer and say any spell correctly or pose correctly as he did them, until a visit to Mystic Meadows with Princess Sofia got him to see that Cedric was capable if he stayed out of the way.[1]
History
Early life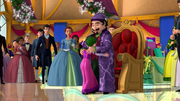 On the fifth or sixth time Goodwyn saved the live of King Roland I, he defeated a Kraken, keeping one of its teeth as a keepsake.[1] Goodwyn continued to save him nine and a half times.[3] Goodwyn also won Sorcerer of the Year twenty-five times in a row.[1]
Appearances
Total appearances: 11.
References