Baileywick
Vital Statistics
Other names
Wicky (by Nigel)[1]
Species
Human
Gender
Male
Hair color
Gray
Eye color
Green
Baileywick is the royal steward of the kingdom of Enchancia under King Roland II's rule.
Personality
Edit
Baileywick keeps to a strict schedule and is a hard worker. He is loyal to King Roland and his family. He is always there for them and tends to their needs, whatever they may be, even when he is giving time off for his own birthday.[1]
Early life
Edit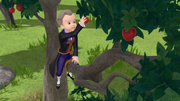 When he was younger, he would go apple picking and fishing with his older brother, Nigel. Baileywick would end up doing all the work, while Nigel lazed around.[1]
It was implied he worked for King Roland I first.[4]
Appearances
Edit
Total appearances: 40.
References
Edit
Ad blocker interference detected!
Wikia is a free-to-use site that makes money from advertising. We have a modified experience for viewers using ad blockers

Wikia is not accessible if you've made further modifications. Remove the custom ad blocker rule(s) and the page will load as expected.