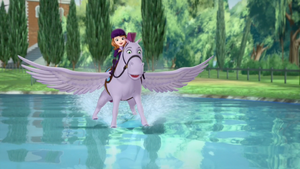 "Anything" is a song played over Princess Sofia and Minimus's flying derby training. It is sang by Ariel Winter in-character as Sofia, but does not actually come from Sofia, herself. This is the first song not to directly come from a character's mouth. Backing vocals are provided by Danny Jacob and Laura Dickinson. Music is by John Kavanuagh, and it is written by Craig Gerber.
Ad blocker interference detected!
Wikia is a free-to-use site that makes money from advertising. We have a modified experience for viewers using ad blockers

Wikia is not accessible if you've made further modifications. Remove the custom ad blocker rule(s) and the page will load as expected.